For years, my only bicycle was a Specialized Sirrus hybrid bike. It is eleven years old, and it has served me well. I recently bought a fat bike, but it's not a serious bike, and its usefulness to me is limited. Anyway, last weekend I broke my Sirrus again. The parts are on back-order, and I don't know when I will have it back to working condition. This situation brought me to the local bike shop, and I bought something.
I purchased a Trek Émonda SL 5. This is a huge step up for me. I've been wanting a road bike for a while, and I decided to pay serious money to get something good. For me, this bike represents no compromises on features or quality. It has a carbon frame and fork, a top quality drivetrain, hydraulic disc brakes, and internal cable routing. I put SPD clipless pedals on it and a Garmin computer. I even upgraded my helmet.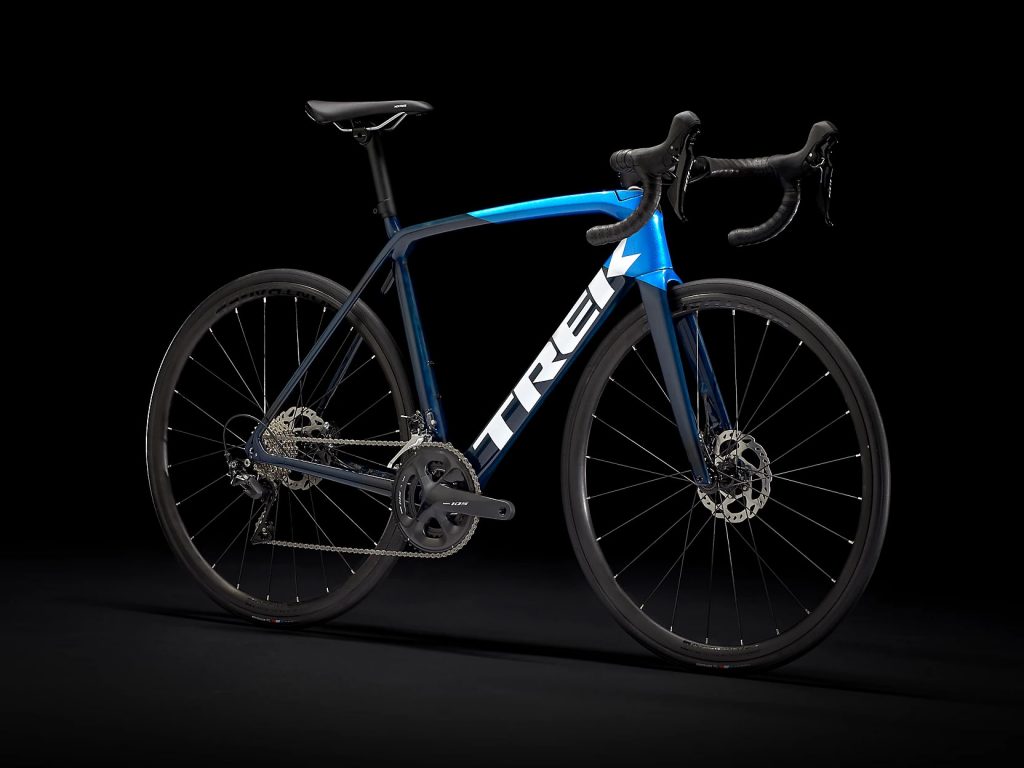 I haven't had a road bike since my twenties, and that was a department store bike with a steel frame and suicide brakes that my parents had given me when I was in my teens. This is the first legitimate road bike I have ever owned, and at my age, I hope it will be my last.
The thing weighs just over 20 pounds, which far exceeds my expectations for weight. It's like picking up a feather.
The bike is described as aggressive. I suppose that is a function of geometry and rider posture. I'll have to learn more about this. One hint is that it is supposed to be good for climbing, which is definitely something I need to improve.
Rides
I've been out on four rides with it so far. The first was the 3.4 mile paved loop at the local city park. I was immediately struck by how fast the bike rides. It seems effortless to get up to rather surprising cruising speeds. However, it is not effortless: my heart rate and breathing were significantly higher than normal for cruising. There's something about the bike that draws more performance out of me. It may be that it is easier, and I'm accustomed to having to pedal harder to move, so out of habit I do pedal that hard, which results in more speed, but also more cadence, and thus the elevated heart rate. I may actually need to learn to go lighter for cruising on this bike.
The second ride, the same day, was 4.8 miles in a dedicated bike lane nearby (2.4 miles each way). I chose the biggest, most daunting hill I could find to see about this climbing ability. It was really about a 5% grade, but that's a lot for me, and it was long. I made it, without a break, and at a surprising speed. My breathing and heart rate were pretty high, though.
The third ride was my usual 11.1 mile paved loop at a state park some miles away. My nutrition wasn't quite right before I started, but nevertheless, I completed the loop in record time and speed. This loop has some hills, up to a 12% grade, and I still had to walk them. However, on a day with better nutrition, I might attempt some more.
The fourth ride was 32.4 miles on a paved river trail. The river trail is all flat, but this is a longish ride for me, a test of my endurance. This is the longest ride I've done in a while. I completed it in significantly less time than the 30.6 mile ride I did in June, and with less wear on my body. I should note that I had almost no saddle soreness at the end. There was a stretch on my return ride, with the wind to my back, where I averaged 16.9 mph for several miles. I have grown accustomed to the riding posture on this bike, however I had much trouble with finger numbness.
(A thing that I've noticed on long rides is that, after I reach a certain level of exhaustion, my performance gradually drops until I stop for a rest, after which I can put out more performance for a few miles. This is clearly a cardiovascular thing, but I'm not sure if it has to do with oxygen or blood sugar. If it is oxygen, then it will definitely improve as I train more. If it is blood sugar, I'm not sure that will happen. It might mean I need to take in more energy while I ride.)
Computer
Over the years, I have had a couple of Sigma bicycle computers on my Sirrus. The first one offered measured speed/distance, cadence, and heart rate. It became so old and had been dropped so many times that pieces of the housing broke off and buttons I needed were missing, so I bought a more advanced model. That one had an altitude sensor, so it could measure elevation gain and display grade. However, I could never get its cadence sensor to work.
Because of the problems with the Sigma computer, I bought a new Garmin bicycle computer to go with this bike. It has GPS, so speed/distance and elevation are built in with no additional sensors required. Trek has provision for a wheel and crank sensor that doesn't look like a retrofit and works with the Garmin, and also a clean mounting option for the computer. I also bought a heart rate sensor for it. It's easier to justify a $400 computer on a $3000 bike, and I can realistically use the same computer with all of my bikes.
Clipless Pedals
I have wanted to try clipless pedals for a while now, and this seemed like a good time to do it, since the bike doesn't come with pedals. Wrong! I have fallen over twice now, once each direction, and I have scuffed up several points on my expensive, new bike (fortunately, not the frame itself). I wish I had learned the habit of clipping out on a bike that was already beat up. Oh, well.
The benefit is more fantastic than I expected. You can pull up, of course. However, you can also push forward and pull back, and I have found myself doing this instinctively when I want to put on some more steam. Instead of applying more force, I can apply force for a longer portion of the pedaling stroke. The goal, some say, is to learn to apply force through most of the pedaling cycle. Others say you shouldn't do that, and I guess I'll have to experiment for myself. Learning is definitely the key word here, because pedaling up is not at all intuitive, and the times I've done it, it has been jerky and inconsistent, rather than smooth.
On this most recent ride, I caught myself a few times pointing my toe downward and applying force toward the front of my shoe, rather than flatly in the direction of the sole. Aside from relying too much on the engagement of the cleats, this was a problem because it restricted blood flow to my toes and made them start to become numb. I've read that the ideal method is to pivot my angle through the pedaling cycle, so that the bottom of my foot is pushing forward toward the beginning of the down-stroke, and pushing back after the end. (This is beneficial even on flat pedals.)
All of this new motion will work muscles that I don't normally work when I ride, especially the pulling up part. I haven't done much of it, but when I do start to develop new habits, I expect to have burning muscles that have never been used so hard. I guess I'll find out where those are.