Perhaps two decades ago, when I was still married, I was a subscriber to National Geographic Magazine.  I occasionally succumbed to other purchases from the National Geographic Society, mostly maps, which were very good, but we once ordered a book of all the national parks in the US.  It was a coffee table book, with lots of great photos.  My wife, tending toward warm temperatures, was interested in all of the deserts, and I the opposite.  However, the one place on which we could agree was Badlands National Park.  In the photos, it was simultaneously beautiful and desolate, and being in South Dakota, I felt sure it wasn't unbearably hot.  A decade later, I found myself in the Pine Ridge Indian Reservation, during which time we had occasion to drive past the badlands, and I was struck by the beauty of the savanna in October, with twisted and scraggy trees, seemingly dead and in such isolation.  For a very long time, I have wanted to visit this national park and explore the badlands.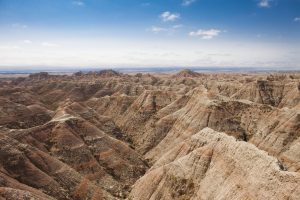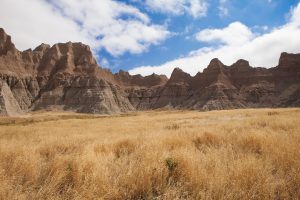 I left from home in Missouri early in the morning, having finished packing for my trip the day before.  The drive was accurately estimated at thirteen hours.  The route was west on I-70, north on I-29, and west on I-90.  I passed the monotony by listening to an audio book of A Gentleman in Moscow.  Because I enjoy the solitude of "dispersed" camping, I had planned to camp in the Buffalo Gap National Grassland outside of the park.  In fact, with the aid of a Forest Service map and Google Maps "satellite" view, I had picked out the exact location I wanted to camp, next to a little pond formed by Church Dam, far enough from the highway to be quiet, but close enough to the entrance of the park to be convenient.  It was about an hour before sunset when I arrived, and almost immediately my truck was swarmed by little mayflies.  There wasn't a square inch of surface that didn't have a mayfly or two attached to it.  I set up camp quickly to get away from them, but they died down (literally) by sunset.  It was a clear night, with plenty of stars, and a half moon came up after midnight.  I briefly heard some cows and some coyotes, but most of the night was very quiet.  In the morning, a thick fog rolled in, which stayed around until late in the morning.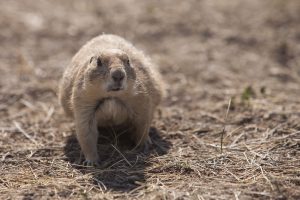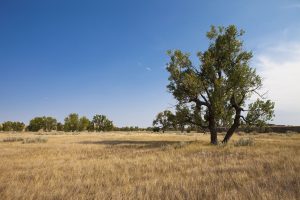 The main part of the park runs roughly east to west, with a road winding through it.  There is a series of eighteen overlooks along the road, which is about twenty-five miles long.  I stopped at most of them, and I took quite a few photos, but the views were largely variations on the same theme.  The badlands are evidently a plateau of hard clay, eroding rapidly where the grass gives way.  The clay was deposited in layers which vary in color, and these are exposed together by the erosion.  Before I explored, I assumed that visitors would be discouraged from walking and climbing on the formations, but it is quite the opposite.  A "trail" exists, winding right through it.  The terrain is so transitory that there is not a worn path; instead, there is a series of numbered sign posts to lead the way.  I guess the erosion is so rapid that it far outpaces any damage made by foot traffic.  Among the sights to be seen is the Roberts Prairie Dog Town, which is a big field filled with prairie dog holes.